Web conferencing & Event-Management
For comfortable
Online meetings, Consulting and trainings
Online service, sales, recruiting and
Home office
GDPR compliant, safe and reliable
No software installation!
  Runs on every device!
Plan and realize your presence and online events with ecosero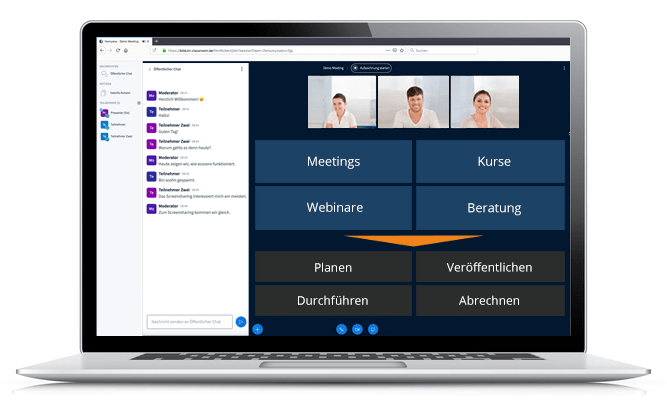 Save time & money and gain more customers with ecosero video conferencing.
More business with less traveling, lower costs and less CO2!
from 12.60€ / month excl. VAT
Runs on every device
Without software installation
Integrate into your website
Dial-in into web conference by phone
Try ecosero now for free!
With our solutions you will get exactly what you need - not too much, not too little
You can upgrade anytime
STARTER
The simple entry-level solution for your online events
For interactive online events (web conferences, video webinars, etc.) in the most modern web conference room. Fast, location-independent communication, coordination and cooperation via web and video conference. Connects people from anywhere using any device.
Popular
PRO
The convenient solution for your face-to-face and online events
For the common planning and implementation of your offline events on site as well as your online events to the latest web conferences - including booking and cancellation functions.
Everything at a glance with a convenient calendar function.
PREMIUM
The complete solution for web conferencing / event management & more
For the comprehensive common planning, creation, publishing, booking, evaluation and billing of your online and face-to-face events of all kinds, including online recruiting and knowledge management.
State-of-the-art web conference solution as an integral part.
We are a German company based in Berlin.
You can sign a separate data processing contract with us.
All servers, including the STUN and TURN servers, are located in German data centers.
With all our data centers, order data processing contracts were signed in accordance with Art. 28 Para. 3 GDPR, which can be viewed if necessary
Data protection cooperation with IT Logic GmbH, a company from Germany.
Read more »
Select the most suitable solution for your company now and test it for a full 14 days free of charge and without obligation.
Discover the simplicity of our solutions and the large range of functions!